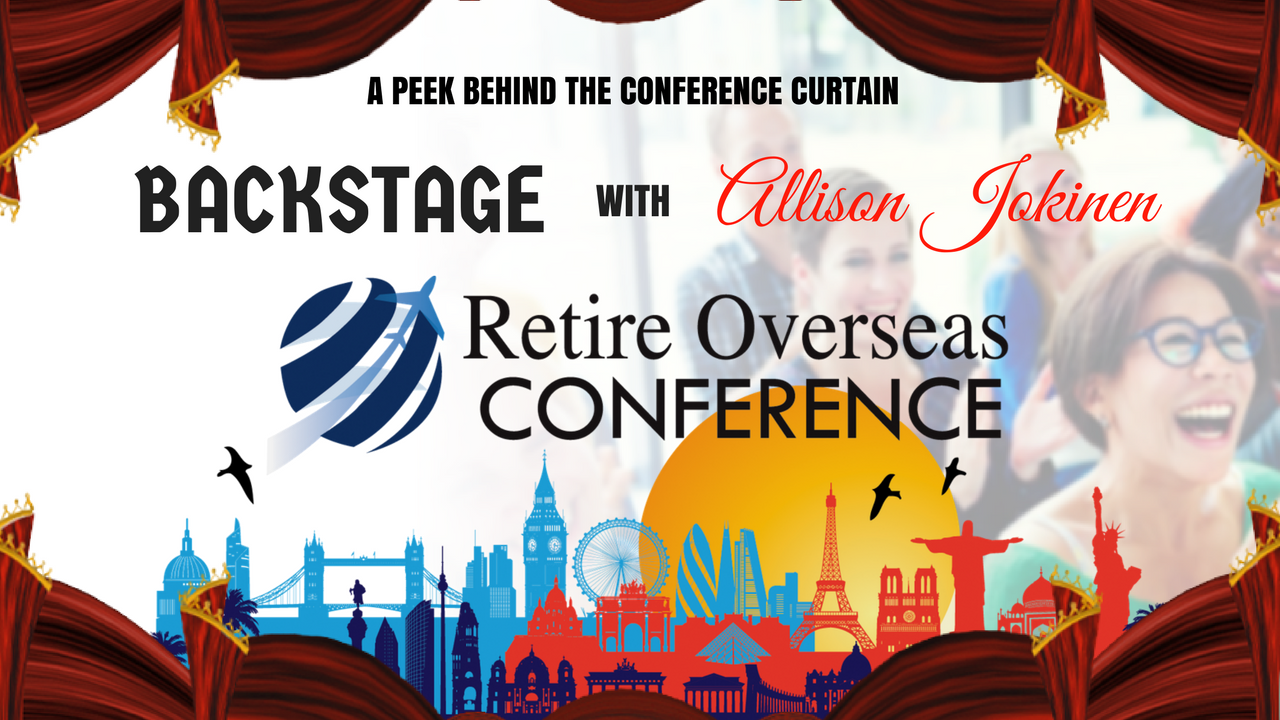 Welcome to the July issue of Backstage ROC: A Peek Behind The Conference Curtain.
Many of you have only recently registered for the conference, so I'll take this opportunity to introduce myself. My name is Allison Jokinen, and I'm the Senior Events Coordinator at Live and Invest Overseas. I'm so happy that you've decided to join us.
If you missed the six five issues of this attendee e-letter, you can read the archives here.
Last week, our team was in the Dominican Republic for Lief Simon's Offshore Wealth Summit. Our conference days can be tiring (we're fueled by a lot of coffee), but while packing up our suitcases and getting ready to head home, it was so nice to be able to say "see you in a few weeks in Vegas!" to many of our far-flung speakers. Normally we only see our speakers once or twice a year, so it's rare to be able to see each other just a few weeks down the road… and every time we do get together, the long, caffeine-filled days are worth it.
It's safe to say everyone involved in the Retire Overseas Conference in Vegas is looking forward to our time together. Not just to see us but to see the other speakers and attendees that they have grown to call friends. This conference features 20 of our top destinations, and it's a lot of fun to have people from so many countries together in one room, laughing and catching up since the last time they saw each other at the last conference.
It was even more nice to say the same "see you in a few weeks!" to so many attendees. We always say this to our All Access Pass members, who join numerous conferences a year (and do so for free). But more and more often, we can say also this to those of you who have decided to become part of our community, join us at numerous events, and meet up with your new friends around the world, too.
I've experienced this community—outside of a conference room—firsthand. Barbara, one of our long-time attendees, invited me to her birthday lunch after our Colombia Conference in Medellín this past June. I didn't know who else she had invited, but I was more than happy to join as, instead of a coordinator-attendee relationship, I have grown to call her a friend.
Walking into the restaurant, I was pleased to see that it was a mix of attendees, speakers, and Live and Invest Overseas staff. Not one of Barbara's family members or lifelong friends was there (unsurprisingly, as we were in Colombia, and she's originally from Texas) but instead an eclectic, interesting group of people who she had met through Live and Invest Overseas Conferences.
Looking around the table, we represented so many different countries, stories, and backgrounds. The one thing that initially brought us together around a restaurant table on a Friday afternoon in Medellín was our conferences. It sounds cheesy, but it's true. This community is a real thing.
Community is important regardless of where you are, but it's especially important when you uproot your life and implant it elsewhere in the world. It's an important aspect of being able to call a new place home. So take advantage of your attendance at the conference… of being in a room full of people that could be your neighbour in Belize, France, or Vietnam… or just people who you can call or email and say "do you feel this way?" "is this normal?" or "you won't believe what happened to me today!"
Now is the time to start building your overseas community.
For singles, once you're overseas, finding a community can sometimes be tough to take on. Not everyone is confident in approaching a group of people to try to make friends.
So this year, for the first time ever, we're arranging a Singles Mixer. If you're a single, join us on the third night of the conference (Monday, Sept. 10) to meet up with others who are in your shoes. These people are your community. We'll have discounted drinks, ice breakers to get the conversation started, and most of all, fun. By this point in the conference, you'll probably have already made friends… so we challenge you to talk to someone you don't know yet.
If you're a single and you're not sure if you've registered for the mixer, just reply to this email and let me know that you want to join, as spaces for this event are limited.
What other things do we have going on during the conference, outside of the conference room?
If you're not a single, don't worry—we've got a welcome cocktail reception that everyone is invited to once the first day has wrapped up. This is one of my favourite parts of the conference, not just because we host an open bar and put out some yummy snacks, but because it's the first night of the conference and everyone is buzzing to get to know each other and connect with likeminded individuals. There are a ton of unique conversations to be had and where many bonds begin being made.
On the second night of the conference, we'll have another cocktail reception for our premium members. Not sure if you're a premium member? Just email me and I'll confirm for you.
If you're not a premium member or a single attendee, I don't think you'll have a hard time keeping busy in Sin City on the nights following our first reception together. There are so many shows and events going on every day and night in Vegas. Should you fancy a Beatles Cirque du Soleil spectacle, a Criss Angel Mindfreak mind-twister, Blueman Group, or Jerry Seinfeld act, it's there for you during our time together in Vegas. Just go here to see the full list of events.
If you want to plan to attend a show in advance but would like to go with some conference attendees, join our Retire Overseas Conference Facebook to coordinate before we're even in the room together in Vegas this September.
There are plenty of ways to start building your overseas community, and you can start as early as today. Community is a great way to ensure a successful move abroad, and if you don't already consider yourself part of our community, I'm so looking forward to when you do.
Until next time…
Allison Jokinen
Senior Events Coordinator