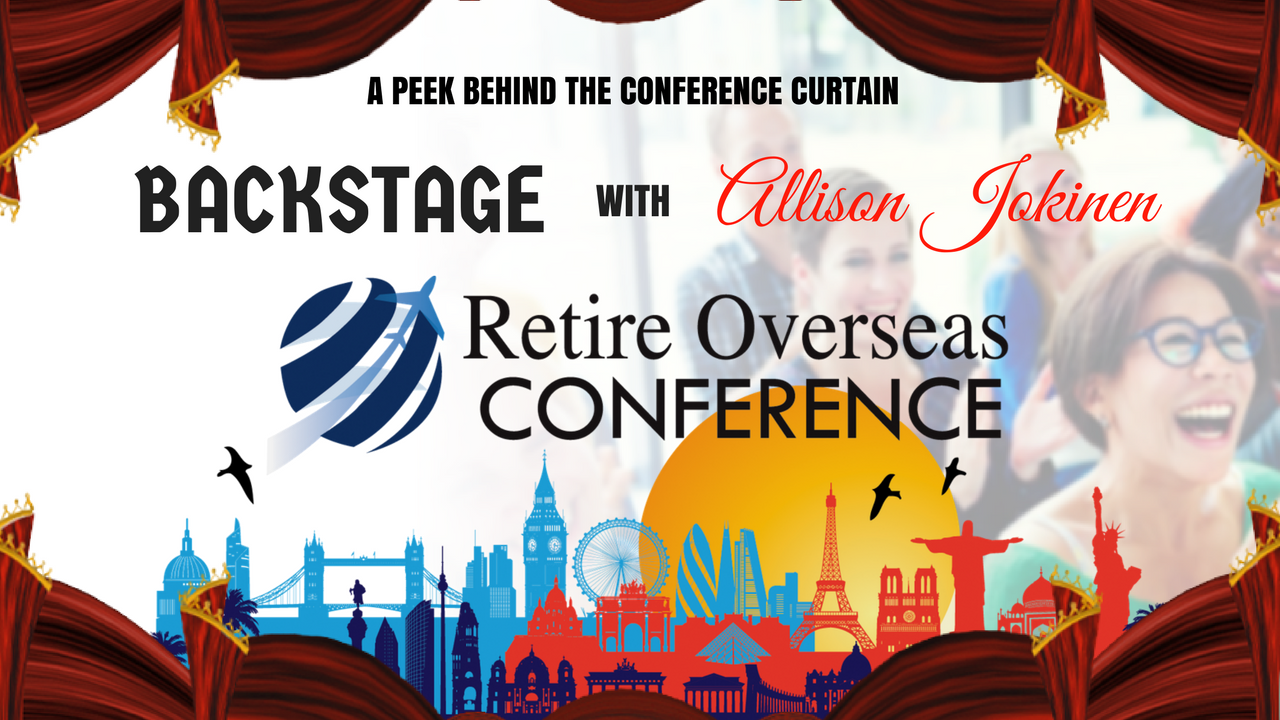 Welcome to the second issue of Backstage ROC: A Peek Behind The Conference Curtain. I'm Allison Jokinen, Live and Invest Overseas' Senior Events Coordinator, and I'm so excited to be reaching out to you again as we get one month closer to this year's Retire Overseas Conference.
If you missed my first issue, I introduced you to the conference team and overviewed our conference basics.
Now, this may be your first conference with Live and Invest Overseas or perhaps just your first conference ever. Regardless of your experience level, we want you to get the most out of the jam-packed three-and-a-half days we have planned for you. It can be a lot to handle… so I've dedicated this letter to filling you in on the tips and tricks you'll need to fully avail of the 2018 Retire Overseas Conference.
This is something that Kathleen will go over with you at the beginning of the conference… but there's no harm in getting a little head start with the planning. Any pre-conference preparation you do will only enhance your experience and take you that much closer to realizing your living or investing overseas goals… and to do so with confidence.
1. Start With These Two Lists
It always comes as a shock to me when I hear that an attendee is considering moving overseas without ever having traveled outside the borders of their home country, wherever that may be. If this is you, you're not alone… I've heard this many, many times. But even for the most well-traveled attendee, there is homework to do pre-arrival… Everyone should start with the basics no matter how well you know the world.
Consider what exactly you're looking for in your soon-to-be second home by coming up with some lists… Start simple. What are your must-haves and your deal breakers? Are you a beach bum? Have a limited budget? Have respiratory problems? Love the heat? Hate the heat? Are you willing to learn a second language? Basically, what makes you happy, and what drives you mad? When you've got the generals down, your items will naturally become more specific with time. When writing these lists, try to be objective and don't narrow down your list of countries in mind just yet.
If your list of demands is short, great! This tells us you're adventurous—the world is your oyster.
Is your list long? No problem! Having specific requirements means you know exactly what you want and that you'll be able to pinpoint early on which places meet your needs… and eliminate those that don't work for you.
Even for those of you coming to the Retire Overseas Conference with specific countries in mind, if you take a step back and just apply your list of must-haves and deal breakers to our selection of 21 countries, you might discover that somewhere unexpected also fits your criteria. This brings me to my next point…
2. Come With An Open Mind
Maybe you think you've got it all figured out, and that you're just joining us in September to make a few contacts… but don't put it past us to throw a couple of curveballs at you during our time together. We're going to show you a world of opportunities that you may not have considered before.
Consider the entire globe within our arsenal.
We've had countless attendees in the past who thought they were dead set on, let's say, Portugal (it is a fabulous place to be). Throughout the three-and-a-half days of seeing what's on offer in our other 20 top overseas havens, however, they realized that places like the Dominican Republic or Brazil actually match their requirements—places they never would have considered otherwise. I sincerely hope we'll open your eyes to countries outside your wheelhouse and help you find the one that suits you best.
3. Study The Schedule And Prioritize
Now, the schedule is not ready for you just yet… This takes a great deal of time, effort, and coordination between us and the more than 40 speakers that will convene at the 2018 Retire Overseas Conference. So, keep your eyes on your inbox for when the schedule becomes available a bit further down the road…
What I can tell you now, however, is that the conference mornings will be dedicated to general sessions, and you'll be able to attend each and every one of them.
The afternoons will be broken up into breakout sessions, and you'll get to pick and choose which ones you attend. These breakout sessions are either country- or investment-specific, and we try our best to put options that won't compete with each other (like Panama and Belize, for instance) at the same time.
Once you do get your hands on the schedule, it's a good idea to sit down and go over it in detail to figure out which sessions you will and will not attend. If two sessions that you want to attend are happening at the same time, you have a few options… If you join us with a guest, you could split up and each sit in on the presentation that you're interested in.
Not a couple? Don't worry—you'll receive all of the recordings from each presentation anyway, so you'll be able to sit down at your computer two weeks after the event and listen to whichever presentation you missed.
But this is also where a bit of planning comes in handy once you have the schedule. If you know you'll miss a certain speaker, why not find him or her in the exhibition hall sometime during the conference and strike up a conversation? You'll have the opportunity to sit down with that speaker for a one-on-one where you can ask any questions you have about their country or investment opportunity… they'll likely cover anything that was in the presentation anyway (and maybe even a few extras that weren't!).
4. Connect With Everyone You Meet!
I mean everyone—from our speakers and experts to staff and attendees. Don't be shy… you came with questions, and it's our objective to get them answered. Not only will the opinions of literally hundreds of individuals shed light on whatever it is you're pondering, but you'll make friends during the process too.
And I'm not just talking about people that you might grab lunch with at the conference… but real, potentially life-long friends. It's not the average Joe that thinks about moving overseas, so this is a unique opportunity to socialize with hundreds of like-minded individuals who, like you, just get it.
You might move to the same country and end up as neighbours… or go out twice a week for drinks. Or, you might just stay in touch via email and keep each other informed on your living-and-investing-overseas journey… maybe they've moved to what will soon be your next vacation destination!
People are your most important and valuable resource. Learn from each other's mistakes, make the right contacts, get reliable, firsthand information, and have a lot of fun with each other, too.
5. Make A Plan With Deadlines
It's important to have some goals and keep them in mind during the conference. Everyone's timeline is slightly different… but, with all the new information being thrown at you, keeping a list of goals is a good way to stay motivated and on track with your plans.
We know how easy it is to get stuck in a routine and to be a creature of habit… But if you're serious about taking advantage of what the world has to offer, make a plan. Start with some small goals, like narrow my list of favorite places to a top 10. Or, book that trip to see your number one option firsthand.
Eventually, goals will turn into more serious, concrete things like "apply for residency," "open an overseas bank account," and "make the move!"
Taking your life abroad is a very exciting thing… possibly the biggest adventure of your lifetime. Stay motivated and stop just dreaming about it. The goals you make for yourself will help put your plan into action.
6. Don't Be Afraid To Take The Plunge!
Remember… it's normal to feel overwhelmed. Moving to another country is probably something you've never done before and it doesn't help that everyone you know is probably calling you crazy. But you're not. You're just starting a new, exciting adventure, and despite what they might be telling you, it will all be worth it.
So, when the time is right, don't be afraid to take the plunge. Or, if you're the reserved type, why not just test it out for a while? Rent a place in Colombia's coffee region for six months and see if that's what you're looking for. You'll never know until you try.
Have you been to the Retire Overseas Conference before and have some tips for making the most of it? Write to me, and I'll feature them in an upcoming issue.
Until next time,
Allison Jokinen
Senior Events Coordinator