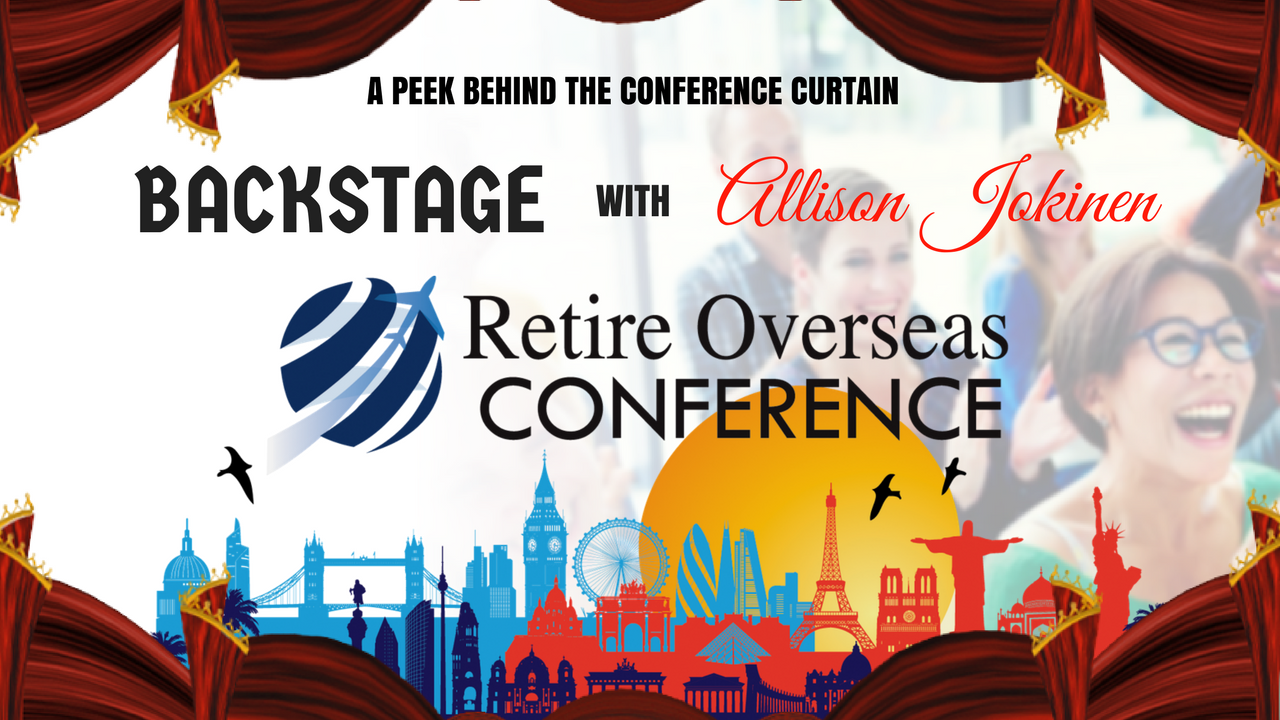 Welcome to the June issue of Backstage ROC: A Peek Behind The Conference Curtain.
If you've only recently registered for the conference, allow me to introduce myself… I'm Allison Jokinen, Live and Invest Overseas' Senior Events Coordinator, and I'm pleased to be touching base with you yet again, another month closer to the conference.
If you missed the first five issues of this attendee e-letter, you can read the archives here.
We're getting down to the nitty gritty of planning for the event here in Panama City, and it has me so excited to meet you this September.
Many of you have just recently signed up to join us this September (we've almost got 200 of you registered at this point), and I've been getting a lot of questions about our time together…
"Is the schedule ready?"
"Are there breakout sessions?"
"Are there any extra events for attendees?"
The schedule is something we put a lot of work into… We haven't finalized it just yet and probably won't until a few short weeks before the conference. It takes a lot of careful planning to coordinate our 40-something speakers over the course of the three-and-a-half days they'll be presenting.
However, I'm happy to go over the general schedule with you, so you can see how it works and learn about what you have to look forward to.
Today I'll discuss the conference workshops…
Our workshops cover the practical information about making a move to another country… the real nuts and bolts that you need to consider no matter where you end up going. At the Retire Overseas Conference, we'll have eight of these important sessions on various topics that I'll list below. And, don't worry, we will always be in general sessions for these, so you won't have to miss a thing…
Workshop #1: Get Your Finances in Shape
This workshop has been put together to help you consider what your retirement- (or living-overseas) style will be—are you moving full-time? Part-time? Will you choose one home base? Travel perpetually? We'll discuss what kind of income and assets you'll need to keep in consideration… what will follow you overseas, or not. What expenses will you have overseas… and if the income you have will cover that. Will you integrate yourself into a local lifestyle? Or do you want to live in an expat community?
The bottom line here is: What can you afford? It can be an uncomfortable question to answer, but you have to be honest with yourself from the beginning (or end up kicking yourself later on).
Workshop #2: Visas and Residency
During this workshop, you'll learn about the different kinds of visas and residency you'll come across, and eventually decide which might be right for you. How much time will you be spending there a year? Will a tourist visa suffice? Or do you want something more permanent? Temporary residency or permanent? Do you want or qualify for citizenship? Do you have grandparents from the country, a spouse, or have you invested enough to gain citizenship?
We'll discuss common qualifications for maintaining residency in the country, whether you can work, what documents you'll need to apply, and the general process for the countries we're talking about.
Workshop #3: The Nuts and Bolts of Getting Established Overseas
This workshop covers exactly what it sounds like… the practicalities of moving your life overseas. Things you should start doing even now to get your affairs in order and get yourself thinking about what you'll need once you relocate.
Will you ship your household goods? What will you do with your current bank account, and what do you need to open a foreign bank account? How will you pay your bills? Will you need an international health insurance plan? How will you get mail overseas? Do you need to keep a U.S. phone number, or, how do you set up a local phone in your new home? How do you set up your internet and utilities? Do you need to learn a new language? Hire help around the house? We'll even talk making friends… and, finally, how to prepare for one thing you will deal with sooner or later… panic (it's inevitable, and it's completely normal).
Workshop #4: Taxes for the Expat and Foreign Retiree
This workshop is mostly U.S.-American focused. This is because our U.S. attendees have quite strict tax reporting requirements, even after they've moved overseas (unlike Canadians). During this workshop we'll discuss types of taxes (income, capital gains, property, import, wealth, and sales), which will be applicable to everyone, Canadians included… and then we'll go on to discuss some U.S.-American specific tax considerations like the Foreign Earned Income Exclusion, tax credits, reporting offshore assets to the IRS, and even the necessary reporting for those who are self-employed.
Although a lot of the tax information from the conference is for U.S. Americans, we do try to create some broad strokes to cover the information for my fellow Canadians, too. If you are Canadian and need a tax expert, we have a contact for you. Although he can't make it to the event, we're happy to put you in touch with him… just let me know.
Workshop #5: The Property Question
This is 100% something you should start considering now. Yes, you know you want to move overseas… but where will you live? Have you decided if you'll rent or buy?
Our #1 piece of advice? Rent before you buy.
During this workshop we'll talk finding a rental, give you a checklist for finding a property to buy, and prepare you with some expectations for the real estate process (buying or renting) in another country. Believe us when we say it's not the same as it is at home (there is no MLS, you'll be gringo-taxed, and your agent doesn't necessarily have a license).
Workshop #6: Health Care for the Retiree Abroad
Health care is one of our most-asked-about topics. We'll cover your options (international policies, local policies, and even going naked), and how to choose the right plan for you.
The main things to consider here are your age, pre-existing conditions, the breadth of coverage you need, deductibles, and maximum benefits.
Workshop #7: Funding Your New Life Overseas
Not everyone is just ready to park their bum on a beach and call it a day (or a life). Some of us don't have the funds for full retirement quite yet, while others crave the regularity of a routine that puts a little extra cash in your pocket.
No matter which shoes you find yourself in, it's exciting to think about a fresh start with a new life (or job) in your new home. This is a topic that we are covering more and more, as so many of you choosing to work in your new location overseas. (In fact, we just launched our first-ever Make Money Overseas Event dedicated exclusively to this topic in Vegas this November.)
During this workshop, we'll discuss your options for supporting your new life, whether it's starting a virtual business (or maintaining your online job), starting a new brick-and-mortar business, or working full- or part-time for someone else.
Workshop #8: What to Expect When You're "Expating"
This workshop is the most fun of them all. I'll save the stories for the conference… but this is when you get to hear the expat experiences firsthand. The kinds of stories that you'll remember because they are either hilarious or unfortunate (or both). Hopefully you'll learn from their mistakes. You'll certainly have some of your own when it's your turn to take the plunge.
That's the current rundown of the workshops. We'll cover a lot of information during our time together, in addition to everything else on the docket. But now that you know what we'll discuss, I hope you'll prepare your questions in advance, or at least begin to consider some of the things mentioned above, to be able to make the most of our time together…
In my letter to you next month, I'll discuss the fun stuff related to the schedule—the receptions and networking opportunities you'll have with our faculty, but also with your fellow attendees… we're planning some things we've never done before, so I'm looking forward to sharing that with you then…
Questions? I have just two of these e-letters left before we meet in Vegas this September. Don't hesitate to reach out with your inquiries: I'd be happy to discuss them in an upcoming issue.
Until next time…
Allison Jokinen
Senior Events Coordinator