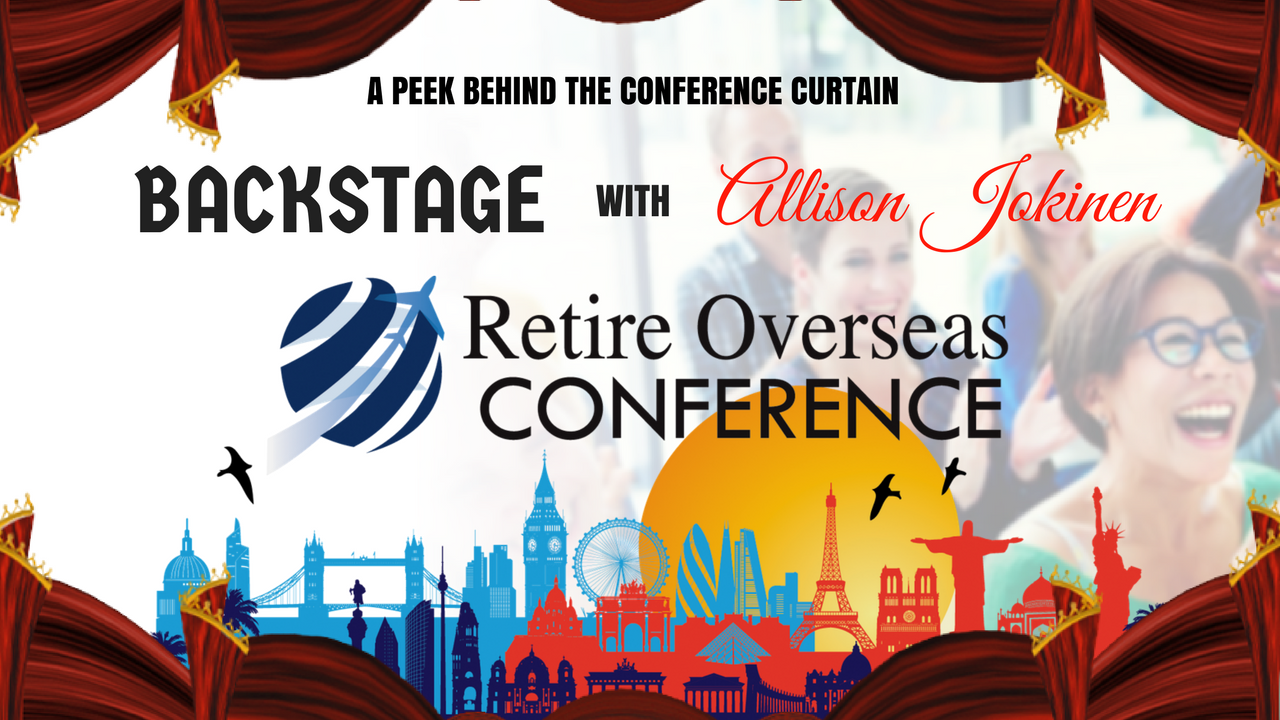 Welcome to the April issue of Backstage ROC: A Peek Behind The Conference Curtain. I'm Allison Jokinen, Live and Invest Overseas' Senior Events Coordinator, and I'm happy to be reaching out to you again another month closer to the conference (time is flying!). We're just over four months out until we'll all meet in Vegas this September, and I'm so looking forward to it.
If you missed the first three issues of this e-letter, you can read the archives here. Give them a peek if you need to know any general conference information (dates, venue, accommodations, topics, and more), tips and tricks for making the most of the conference, or to get an introduction to some of our key speakers.
This year is our eighth(!) Retire Overseas Conference… with the years passing by, I've been wondering where some of our past conference attendees are in their live-and-invest-overseas plans. I personally love to get updates from attendees and to hear where life has taken them since joining one of our events… so I contacted the attendees from our 2016 and 2017 Retire Overseas Conferences (as these are the years I've personally attended) to check in with them and see how they're doing.
Some people have just started to take serious steps toward their new life abroad, like looking for a place to rent or buy or initiating a residency process, and others have actually made the move and are living the good life away from a place they once called home.
Today, I'm sharing a few of these stories from our past conference attendees, some of them short and sweet. But the point is this: They were once in your shoes, a life abroad just a dream, and now they're turning those dreams into reality… it's not that hard after all!
"I made the move to San Miguel de Allende in April of last year. I have encountered a few speed bumps along the way… they call them tope in Mexico. I found the help and friendship of Jim Hardesty to be of great value and finally found a good rental house with the help of his wife. I'm getting into the routine of new social circles with my bridge and Mahjong game playing. Through winter, I really appreciate the climate as opposed to the snow in Denver. Now, I want to work on learning some Spanish… I don't really need it here, but it would prove helpful.
"I am coming to love living in San Miguel and am very glad I took the leap with your assistance. The conferences were of great help and an excellent information source.
"I have also gotten into two of the investment options that were featured at the conference. It is nice to have some investments outside the United States, especially in these troubled times back home. It is also comforting to be away from all that bad stuff in the States. Now I can look at the news and think to myself, 'I'm glad I am here and not back there anymore.' It is truly wonderful to just enjoy life and get wrapped up in another culture. I have found a new permanent home here in Mexico. Thanks so much for the services you've provided!"
–George G., San Miguel de Allende
"My first Live and Invest Overseas conference was the Retire Overseas Conference in Las Vegas 2016… I then attended another conference in Medellín the following year. I may not be your normal attendee as I have spent a good part of my life traveling extensively and used the conferences more as an information-gathering exercise. This in order to eliminate, not find, the areas where I knew I could possibly live, and narrow it down to a final destination… Medellín was the winner for many reasons… the winner by a mile.
"Now, I have finalized a five-year search for my perfect retirement home by purchasing my retirement apartment there. I am ultra-happy with my final decision and am now unbelievably excited in anticipation of the move to my new home in Medellín and the beginning of a new life…"
–Kevin W., Hong Kong
"Kevin and I have been to a few recent conferences and have learned and enjoyed them very much. Getting to know so many attendees and presenters has been amazing.
"For us, this whole process started over four years ago just researching on our own. We learned a lot on the few countries we had in mind, but by attending the conferences we were able to narrow them down and concentrate on specific countries after that and learn so much more. Live and Invest Overseas has been such a wonderful thing for us to go to for answers we need or to read the daily letters and continue to learn every day.
"We have also been able to invest in some agricultural opportunities. We first saw them on an email and were not sure about them… we had lots of questions, actually we were quite skeptical. After attending our first conference and talking with them and knowing that you at Live and Invest Overseas trust them put our minds at ease.
"After lots of research and conversations we have decided to make the leap and move overseas. We are moving to Ambergris Caye and will be there starting Aug. 1. We are very excited to start this new adventure and call San Pedro home. Thanks for all that Live and Invest Overseas does to help not only us but so many people all over the world. We look forward to continue reading the daily letters and articles that we receive from you.
"Thanks again for everything."
–Kelli and Kevin B., Iowa
"I am one year closer to retirement and am happy to say that I have made some small moves. I have invested in agriculture in Panama and am now a land owner there. I have also secured a consulting firm in Panama City and am in the middle of a legal and business analysis of a proposed business in Panama. It is a little early to see how that will turn out but I am learning much. I am at the point where I will be traveling to Panama in the next month to spend 7 to 10 days on the ground gathering more information on this proposed business.
"I have also started an online Spanish course so I can understand and communicate better when I am in Panama/Central America."
–David W., Arizona
"We have been visiting various countries and invested in in Panama, Colombia, and Thailand."
–Jack H., Ohio
"I made the leap, and am so glad I did. At the conference I attended the workshop on Nicaragua, and spoke thereafter with Michael Cobb about service and volunteer opportunities.
"I have been in social work for 30 years after all…
"We emailed and talked after the conference and he invited me to come work with Gran Pacifica/ECI with all the Corporate Social Responsibility projects that the company does. It has been almost a year of meeting all kinds of people and discovering what great people Nicaraguans are. I have assisted in the schools, gathered donations, and worked with many groups coming here (medical, dental, high school students, water improvement, college abroad, etc.). I have learned some Spanish, dropped 20 lbs., and continue to plan for a future here."
–Holly W., California
"My wife and I really enjoyed the conference. While there, Colombia got on our radar, which we had never considered before. While at the conference, we met Felipe Gutiérrez from Medellín, Colombia. He and his brother have an investment firm there. We invested with them, and in retrospect, have to say we have been extremely pleased with the results so far.
"After returning home, we started making some plans and actually went to Medellín. We were planning on staying for one month but enjoyed it so much we stayed two. Met several expats there and Felipe showed us around a bit. While there, we also invested further through Felipe and his brother, Juan Dario. We are looking into moving there full time. A very beautiful city and a wonderful climate.
"Due to the conference, we also invested in agriculture in Panama. We also made a trip to Panama, but decided that Medellín is more to our liking.
"Again, we really enjoyed the conference and had it not been for that, we would not have done these investments that we believe will be very advantageous to us."
–Ray S., Texas
"I've had a superb year planning to move to Belize after purchasing a cottage from Carmelita Gardens.
"I've been to two Live and Invest Overseas conferences. Both were so enjoyable that I would just attend them yearly or more often as vacations. Until you've experienced one, you cannot imagine how efficient and smoothly run a conference can be and yet have so much class and simple elegance.
"However, as a 70-year-old widow, I felt that I could not make this move alone. It just seemed too daunting. That was after the first conference.
"But the dream of moving offshore kept pulling at me so I went to another conference…
"After hearing about Carmelita Gardens' new project with the cottages, I went by the information table to meet with Phil Hahn and Jamie. I had already decided that I wanted one of their tiny houses, but there was never any pressure at this table or any of the others. I picked my lot and put my money down.
"From that first encounter I've been very blessed with the personal relationship with Phil and Jaime.
"I'm now 72. I have been a registered nurse for over 40 years, a certified adrenaline junkie, now I'm ready to fish, hike, and kayak in the Cayo district in Belize. I will move into my new home when the paperwork and arrangements are complete (looks like the end of November).
"This has not been daunting at all. Live and Invest Overseas, Carmelita Gardens, and all associated with them have integrity and knowledge which they easily share. No hidden agendas. My only regret is that I did not do this 10 years ago."
–Mary A., Nevada
Regular people like you and me! They've done it, I've done it, now it's your turn.
I have more stories like these for you… I'll share them in upcoming issues.
Stay tuned.
Allison Jokinen
Senior Events Coordinator