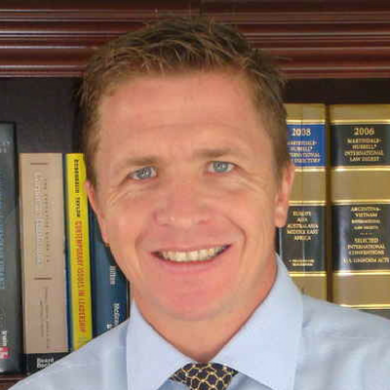 Juan Federico Fischer
Fischer & Schickendantz
Juan Federico Fischer is the managing partner of Fischer & Schickendantz, one of Uruguay's leading law firms. Both a lawyer and an M.B.A., he manages the firm's foreign investment consulting unit, advising both multinationals and individual investors mainly in real estate developments, acquisition of local companies and privatizations.
In his 16 years as a corporate attorney, Juan has worked in some of Uruguay's main privatizations (Punta del Este Airport, 1994, Montevideo port, 1995 and 2000); in major local corporate debt restructurings; in international debt restructurings (regional debt-equity swap of Italy's Parmalat, 2004), in mergers and acquisitions (AstraZeneca spin-off of Avecia, 2000, Katoen Natie's acquisition of the Montevideo port, 2006, Sherwin Williams's acquisition of Pinturas Industriales, 2007). He has advised and is counsel to dozens of multinationals such as Bombardier, Computer Associates, Bechtel Corp., UBS, Cable & Wireless, HSBC, and Globo of Brazil, and to multilateral institutions such as the World Bank Group. Currently, Juan specializes in major real estate developments, both commercial and residential.
Among the current projects that Juan is currently the lead advisor to, are: Laguna Tranquila, a pioneering 250-acre development in Uruguay's easternmost province, Rocha; José Ignacio Polo Club, a 350-acre project under the direction of renowned architect Carlos Ott; and Apart 356, the largest residential project in Montevideo's newly renovated Historic Disctrict.
Juan's firm, Fischer & Schickendantz, is also the local advisor to First American Corp., (the world's largest title insurer), and is one of the main references to foreign buyers of real estate in Uruguay.
Juan graduated from Uruguay's Catholic University's School of Law in 1994, and in 2002, he obtained an M.B.A. degree from Northwestern University's Kellogg School of Management, where he majored in strategy and finance.  Juan was born in France and besides Uruguay, has lived abroad for twelve years, in Washington D.C., New York, Chicago, London, and Central America. His overseas work experience spans deals in the United States, most of South America, Mexico, Britain, Spain, Italy, and Romania. Juan is fluent in Spanish, English, and French.