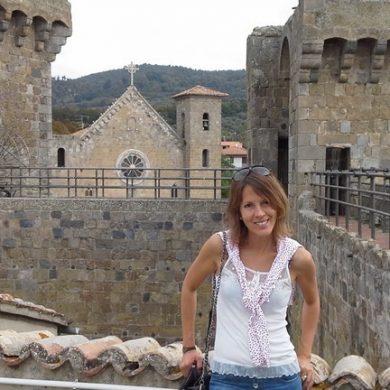 Monia di Guilmi
Director, Abruzzo Rural Property
Monia moved from Northern Italy to the Abruzzo region when she was five years old and considers herself a true Abruzzese.
After graduation, she did her postgraduate studies in the UK, achieving a master's degree in technical translation. During her three years in England, she began to develop a passion for the countryside and country properties. "I loved the TV program Escape to the Country," says Monia. "I watched it every evening and loved seeing the beautiful houses and countryside landscapes they showcased."
Monia also lived in Spain and Japan. Her many travels brought her all over the world. She speaks three languages fluently: Italian, English, and Spanish.
After ten years living abroad, however, Monia's love for Abruzzo finally brought her home again. After returning, she began work in the purchasing office of a multinational Japanese company in the automotive sector. But in the meantime, she began to notice a trend — Abruzzo was becoming popular amongst house hunters and foreign tourists — and she soon found herself working for a local real estate agent in 2010. Her primary role there was as an English / Italian interpreter and translator.
Soon, it became clear that this was what she was meant to do. Right away, she made plans to start her own real estate company: Abruzzo Rural Property.
Abruzzo Rural Property was born from a dream: "To join the love I've always had for languages, travel, and meeting new people with my love for Abruzzo — my beautiful and unspoiled homeland." The company was officially founded in 2012, and since that time, Monia and her team have helped hundreds of clients from all over the world buy homes in Abruzzo.  Today, Abruzzo Rural Property is one of the fastest growing real estate agencies in Abruzzo."
But Monia says her biggest reward is still just seeing the smiling faces of her happy clients and the many positive reviews they leave on Abruzzo Rural Property's Facebook page.
"I've discovered that my travels have truly helped me develop a unique sensitivity toward my clients' needs. After living all over the world, I've learned how to interact with everyone, no matter where they're from or what their background is," Monia says. "Most of all, I feel I have an important mission because selling homes means forever changing the lives of the people who buy them!"